Whether you are new to dropshipping or you've been at it for some time, the search for the best products to sell remains that toughest and also the most elusive thing for you to do.
But the catch is that even with the difficulties, you cannot skip this process if you are going to earn something from dropshipping. Essentially, you have to keep going, and if the going gets tough, then that will be time for you toughen up.
So, how do you keep going? How do you overcome some of the biggest challenges associated with the online retail business, especially when you are new to the whole ecommerce thing?
After all, the success of your dropshipping/ ecommerce business is largely dependent on your ability to find and fill up your store's products inventory with the highest-quality merchandise, merchandise that you will be able to sell at the most affordable prices to your customers.
How then do you do it?
Well, the easiest and the top-recommended strategy you may want to embrace would be: one, leveraging the best strategies for dropshipping to ensure the success of your business, two investing in the best tools to use in your search for the best products to sell from your dropshipping store.
The good thing is that once you have identified the best dropshipping business model and the right tools to sell, you will be on your way to limitless profits.
In this article, we'll introduce you to some of the best dropshipping product research tools. But before we get there, let's review the dropshipping business model.
What is Dropshipping?
Dropshipping refers to the ecommerce model that makes it possible for entrepreneurs to identify the best products and sell those products without having to handle or store inventory.
Therefore, when running a dropshipping business, you will need to find suppliers to order products from, but only ever products from these suppliers, or rather, have the suppliers receive notifications to dispatch orders after customers confirm and pay for the products.
For this business model to work, you will have to contact your supplier, who will then package and ship the ordered products from their stores/ warehouses directly to the customers.
At the end of the day, dropshipping is a very hassle-free process in the management of inventory, with your only job being the identification of the best stores to place your product orders from.
The other advantage of this business model is that dropshipping doesn't need too much in terms of capital investments, especially if you compare dropshipping to other ecommerce business models that require product sourcing (in bulk), storage of inventory, and the subsequent processing of the orders.
You could, therefore, say that the main reason why dropshipping works include the fact that you don't have to deal with off-putting inventory handling process involving management of inventory.
This business setup will, therefore, leave you with the task of generating leads/ traffic to your online store, and the conversion of leads into sales.
Sounds all nice and rosy, right? Well, it isn't as flawless as we've made it sound.
The truth is that even with the simple business model that's generally easy to work around, the biggest challenge faced by individuals who are just getting their feet wet is the search for the winning/ perfect dropshipping business.
Like every other attractive business venture, there is a cost; you must be willing to pay. And in the case of dropshipping, the cost of success is your investment in the tools that will ensure a successful search for perfect products.
And even with the best tools, there are many factors that you must keep in mind for you to find selling products. These considerations include;
You need to look for trending products perfect for your dropshipping business
Identification of the best niche products to focus on in your dropshipping business
Competition and what they are researching
Social media trends and the products selling well on different social media platforms
Online communities for dropshipping and how these communities could guide you in your search for the best products to dropship.
In addition to these (generally places you could go-to for the best ideas on dropshipping products), you also need to bear in mind these factors:
Your best price range
Products with reasonable profit markup opportunities
Finding the best supplier for your products and delivery timelines
While these are checkboxes that you need to check off at the end of the day, the truth is that doing all these without any help could take you days or even weeks, especially with the large pool of information online.
But we've found a way to make these processes easier and simpler, and they all start with investing in the best product research tools for dropshipping. These tools come highly recommended by dropshipping experts, and you will not go wrong with any of them.
Best Product Research Tools for Dropshipping
Pexda is, without a doubt, one of the best product research tools for dropshipping, and it has a lot to offer, whether you are an experienced or a newbie dropshipper. As its tagline notes, you need to Stop Wasting Money on Bad Products, and this tool shows you how.
As the leading product hunting tool, Pexda makes it easy for you to locate winning dropshipping business. It works as a spy tool, allowing you to access a huge product catalog made of products with the highest potential for profits only.
Pexda also offers the best features for tracking different trends, and you also get to analyze the products that are searched by most shoppers. The other features offered include the comprehensive product search database that tells you all you need to know about trending products, all based on elements like Facebook Ad Likes, Facebook Ad Comments/ shares/ or views.
With Pexda, you can work out profit estimates, shipping costs, product costs, and profit margins, among other elements. Pexda Chrome extension is an important part of the Pexda product research, it is downloadable, and it allows you to easily identify some of the best suggestions for product targeting suggestions, while also giving you access to excellent support and auto-hunt options.
The other advantageous features of the Chrome extension include instant access to current and trending Facebook Ads, a feature that allows you to create and run successful ad campaigns. Which you can use as the template from which you can run even better ads for your products. 
Pexda's pricing is affordable, and with prices starting from $1.95/month, comprehensive product dat bases, reports, and analytics, this product research tool could be all you need
---
EcomHunt is one of the most popular product research platforms, and it's known for its lists of the best, hot, and the fastest-selling dropshipping products.
According to the creators of EcomHunt, this platform represents the best-selling/ winning product identification platform, and what this means is that whether you are new to dropshipping or not, your search for the best products on AliExpress or Amazon would be simplified by EcomHunt. 
EcomHunt's newest version, EcomHunt 2.0, is a more advanced function that simplifies your search for the best high-value products. The top features offered by EcomHunt include a sorting and a filtering system for comprehensive product research, multiple categories (niche or generic) for product searches, and searches based on the types of products.
If you are interested in getting the best dropshipping products from AliExpress, for example, EcomHunt gives you access to free product reviews. 
The other reasons include its ease of use, affordability (there is a free plan (2 product searches per day), and the paid plan that goes for $29/month and gives you access to an unlimited number of product searches each day. The webinars and the tutorials offered by EcomHunt are 
The biggest drawback, however, is that EcomHunt's free membership plan is rather too restrictive. 
---
With a capacity to scan more than 40K sellers on eBay, AutoDS gives you access to the best-selling and the highest-quality products, saving you a lot of time and money in the process.
But despite being a tool integrated into another tool, you can use the AutoDS Finder to scan different sellers, in the process, identifying some of the best-selling eBay products.
Its integration into the AutoDS function (AutoDS doesn't exist as a standalone tool) means that you can schedule the selected items for then to be updated at a future date or time.
The other reason why AutoDS Finder makes an excellent product search tool is that it also functions as a credit system rather than a monthly plan system, which means that the service is not only affordable but also the credits will never expire.
Some of the suppliers supported on the platform include Amazon, Walmart, HomeDepot, and AliExpress. You might also like the recurrent uploads feature, which automates product uploads.
But on the downside, AutoDS Finder comes with some drawbacks. For example, it lacks an option that allows you to select a price range for your products. Then there is the fact that there are no options for niche uploads. 
---
Boasting at least 10 unique subscription tools, Dropship Spy is one of the other great product research tools you may want to consider for your dropshipping website.
While this dropshipping products' spy doesn't have a long list of the top-rated daily products, only adding new products to the database each day, this spy tool comes with some pretty nifty functions.
This spy tool gives you access to five new products added to the inventory each day, along with the already big product inventory, which means that you could expand your catalog easily.
Its coolest function, however, has to be the pinpointer focusing function that makes it easier for you to market and incentivize buyers with deals. 
The comprehensive statistical surveys tool depicts the actual state of the market, while also offering valuable insights into the right valuing strategies that would guide you in the product audits and ad campaigns.
The other unique features offered by this dropshipping product spy tool include the Facebook Audience Builder which will allows you to create and run successful Facebook ads thanks to its advanced targeting options; the Amazon Review Downloader which gives you access to Amazon reviews (which you can use along with the products listed); or the Products Analytics/ Profit tool that comes with functions necessary for advertisement, marketing, and sales management.
At the end of the day, all these features, along with the fact that the product research tool is easy to use, make Dropship Spy a good product search tool for you. The pricing of this product starts at $17/month.
Beware of the less than perfect Facebook Targeting function and the generic products displayed on the site, which may not sell your sight in the best light.
---
Thieve is the other great product search tool for dropshipping since it offers insights into the products trending on AliExpress while also offering deep inspiration into product searches.
Thieve offers insights into different products for you to choose from, and the best bit is that it has a huge selection of product niches and categories that promise to make your search for best-selling products easier, faster, and super affordable. 
There is a free plan for you to try, but you will enjoy more features if you choose to pay for the monthly $5 or $29 subscription fee.
---
Niche Scraper is another top-recommended tool for product research. It comes with numerous tools and functions which enhance the best product hunting process for you.
So, what makes Niche Scraper different or better than other product hunting tools on the market? 
For starters, Niche Hunter comes with advanced features and functions that enhance the processes for product searches. Thanks to its functions, you will increase your chances of finding the best-selling products for dropshipping.
The top features of Niche Scraper include the:
Store Analysis function that gives you a sneak peek into what other Shopify stores for dropshipping are selling. The insights from the analyzed data will boost your chances of success because you will have an idea of the keywords and the products with the highest selling potential. 
Niche Scraper also makes it possible for you to pick winning products thanks to its hand-picked winning products' category. You could use information like profit margins, product cost, descriptions, supplier links, and Facebook audience targeting to gain all the important information about the products in question. 
There's also the Video Maker, which enhances your marketing strategies' success by making it easier for you to create ideal marketing videos for your products. Niche Scraper's plans are affordable, with newbies having access to the free plans. The paid plan is also favorably priced. 
A quick look at the features of this function reveals that this could easily be the best feature of the Niche Scraper since it allows you to find winning products by gathering data on the features and the descriptions of the products, the cost of the products, profit margins, and other important pieces information about the product, for example, FB audience targeting or the supplier links.
---
7. DropshipMe
If you are looking for the best tools for AliExpress dropshipping and product research for your WordPress-powered website, DropshipMe could be exactly what you have been looking for.
DropshipMe comes as a free plugin that works for both WooCommerce and WordPress, and it gives its users access to at least 50 best-selling products listed on AliExpress. 
Besides product research, DropshipMe is also an excellent product sourcing tool. It works with AliExpress seamlessly, thanks to its plugin's compatibility with the AliExpress WordPress dropshipping.
These integrations enhance the function of DropshipMe, and you could use it to import products from AliExpress directly – these products will come with accurate, and SEO-ready product descriptions, which means that you can start selling the identified products immediately.
DropshipMe has all the hard bits worked out for you, and your only job will involve adding the desired products to your store, and to market these products. 
---
8. Google Trends
Google Trends might look like an unlikely fit in this list, yet it is one of the best product research tools out there. Basically, any entrepreneur interested in selling products online has to research, and Google Trends represents the go-to tool for most of these individuals.
What this means is that if you are getting started with dropshipping, you will not go wrong with Google Trends. Unlike all the other research tools discussed here, Google Trends is the only free product research tool that will not charge you more when you need more.
Thanks to Google's Algorithms, Google Trends works across all industries, and about all countries, and you could use it to identify the trending and the most profitable product niches. The analytics collected will inform your decisions by offering insights into products, their trends, as well as how the popularity of the products rise and fall.  
You could also use Google Trends to learn about trends in specific countries, identify market gaps, and to gain deeper insights into product categories and topics that people are actively searching for. 
---
9. Zik Analytics
If you are interested in learning more about the dropshipping landscape in eBay, in understanding what works and what may not be a good product choice for your eBay store, you may want to try out Zik Analytics, as it is regarded as one of the best product research tools for eBay.
This research tool makes it possible for you to name and then decide on wining products based on all the data and analytical reports offered by the tool. 
Product research using Zik Analytics is based on competitor research, bulk scanning research, long-tail keyword research, as well as product category research. In other words, this tool offers the most comprehensive/ extensive research for best-selling products for online stores.
---
10. TrendingProducts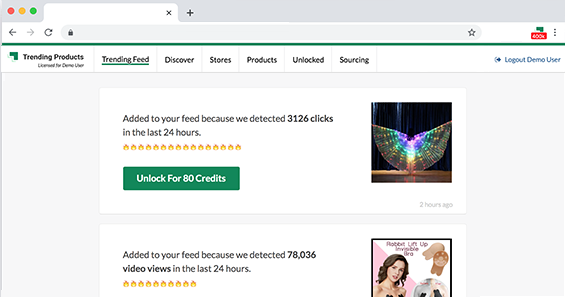 Marketed as 'The only software that will back dropshipping trends with real/ actual data' TrendingProducts is a uniquely designed product research tool that also doubles as an excellent product sourcing tool for dropshipping.
TrendingProducts puts together all data related to the best-selling dropshipping products, and then it breaks down that data to show you the hottest products in your niche. To provide more definitive details, this tool will also offer details about the dropshipping products that are actually available.
The top features of this tool include Product Ads, Live Trends, Store Reports, Product searches by category, supplier detection, contact automation, determination of the strength of metrics, and store shuffling features.
---
11. AliShark
AliShark is an excellent product research resource, and it takes the top spot when it comes to product research tools specific to AliExpress.
Its efficiency stems from the fact that AliShark makes use of extensive analytical data including rating, product orders, sales history, prices, trends, and even social signals to provide sensible details about the best-selling products in dropshipping.
AliShark makes it easy for you tell whether the products you are interested in have video descriptions or not and if the product is an ePacket, as well as the details of the leading countries that the product is sold in.
---
12. Commerce Inspector
In addition to providing essential insights into the best-selling or winning products to list on your dropshipping ecommerce store, the Commerce Inspector is designed to provide significantly more information about the products you could sell on your store.
For instance, the Commerce Inspector lives up to its name and allows you to track the sales figures, traffic insights, and product launches of your competitors with ease. The information collected will give you a competitive edge over your competitors, while also making sure that the recommended products actually sell. 
This tool is not free, though, and though there is a trial period, you have to pay $1 to give it a test run.
---
13. Funnel Genie
Unlike most other product research tools covered here, Funnel Genie offers more than insights into the best and the winning products for dropshipping because it is designed as a comprehensive tool for setting up a dropshipping store. 
If you choose to use Funnel Genie, you will enjoy high-ticket/ best-selling dropshipping products with suppliers that are locally based. In addition to curating a list of winning products, Funnel Genie also provides all the necessary tools for product marketing.
All these features and functions come about because of the Funnel Genie system, which comes with a number of other sales funnels that can be copied and used to promote the selected dropshipping products.
The other impressive feature offered by Funnel Genie is the Cash on Delivery, COD system, which is supported in specific countries.
---
14. AliExpress Dropshipping Center
The AliExpress Dropshipping Center is another excellent product research tool in the world of dropshipping, and the feature that stands out the most has to be the fact that it is a free tool.
It's easy to use, and you only need to enable it from your AliExpress account. Some of the features offered include specific tools for hot dropshipping products, product analysis, and the rank of the most trusted suppliers.
---
15. Sell The Trend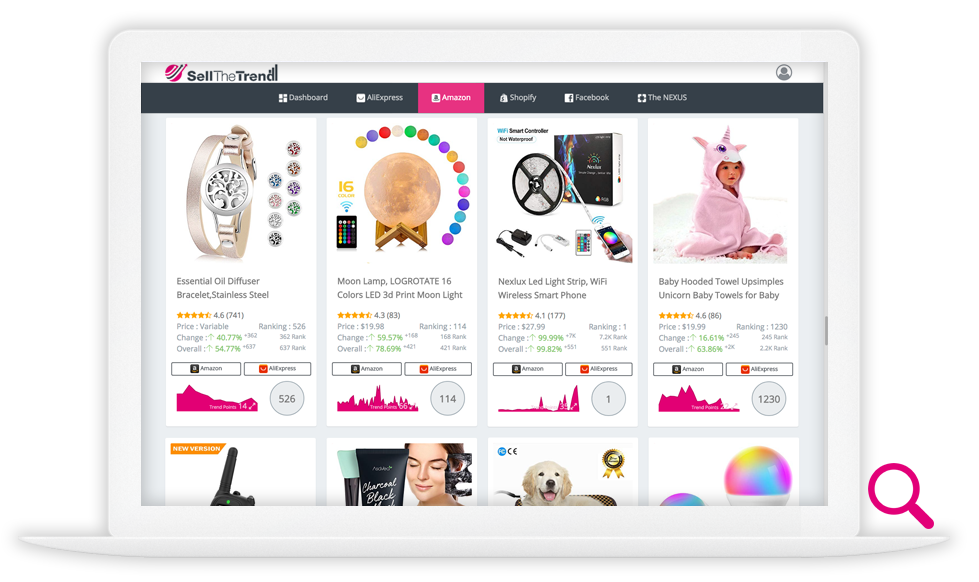 Last on our list of the best product research tools for dropshipping is Sell The Trend, a product research tool that houses numerous functions and features designed to make your dropshipping business successful, right from Day One. 
Sell The Trend constantly scans AliExpress to identify and point you to the most popular products on the site. It also analyzes best-sellers on Amazon, as well as trending products on the ecommerce giant.
Besides AliExpress and Amazon, this tool also analyzes Shopify stores and Facebook, and then it puts together all the information collected into its NEXUS function, giving you results of only the best of the best products for dropshipping. Sell The Trend is priced in tiers, and the cheapest plan goes for $39/month.
---
Conclusion
Whether you are new to dropshipping or you have been at it for some time now, you know that there is something for everyone. All the product research tools mentioned above have something to offer, and your only job would be to weigh the features of the research tool against your needs.
Indika is the founder of ecom hustler.com.And director of Bluechip mind. He runs his own digital marketing agency.
"Helping Someone Online Saves Lots of Airfare"