If you are reading this, then you are one of the few people who've been bitten by the bug going around called the dropshipping bug. Well, before you go all angsty on us, know that we don't intend to ridicule you. Actually, we're here to rescue you!
Now, you may think that the whole dropshipping business is as easy as the internet and your friends have made you believe, but you need to know that just like everything that promises good returns, you have to put in some work. Which is why we are here to guide you.
In this article, we'll offer the best possible guidance on dropshipping, specifically on the things you need to start doing for you to eventually make 5, 6, or 7 figures from the dropshipping business venture.
Besides offering tips on what you need to look for in your search for the best dropshipping platforms, we'll also offer recommendations for high-value dropshipping platforms.
Choosing the best dropshipping online platform
When it comes to choosing the best dropshipping platform, you get to choose between the self-hosted stores where you build your website from scratch, or you could set up your dropshipping store on one of the already established dropshipping platforms.
But, these two options are not the only things you need to bear in mind, the hallmark of the best platform for dropshipping is based on the products you choose to sell, the size of your product range, and your level of technical expertise with regards to the management of your online store.
Types of platforms for dropshipping
Essentially, you get to either sell on an e-Commerce platform that is already established, for example, eBay or Amazon, or you could create your own website then choose to have the website on one of the self-hosted platforms or an established hosting platform.
Selling on Amazon or eBay
The advantages of selling on the established online marketplaces like Amazon include the fact that you only need to set up your account with Amazon the add your target products and begin selling those products.
Amazon, for example, already boasts a substantial amount of organic (and paid) traffic, and this means that you will not struggle as much to have customers or leads checking out your products. It's generally the easy and simpler approach.
But there are some caveats you have to be willing to deal with – for example, you will not have any control over the business, and for the most part, you cannot customize the page to your liking.
At the same time, such marketplaces are devoid of important features and functions like fulfillment monitoring, shipment tracking options, or website integration.
There is also the fact that you have limitations affecting the number of products that you get to sell. At the end of the day, there is no branding upside, and the competition is cutthroat in most cases, hence the need for alternatives.
Forbes talks about the Pros and Cons of Amazon selling.
Creating and selling from own website
The most obvious alternative will, therefore, become the creating of a brand-specific and customized website.
The best part about having your own website to sell your products from is that you will have control over your brand, and every time someone buys from your online store or website, they will refer to the website by its brand or store name, making referrals easier.
When you have your own store, you also get to control the competition. The price you will pay for this option comes in the form of the time and money spent in the setup, management, optimization, and generally being able to implement and meet all the marketing needs of your brand.
If you prefer having your own website, you also need to settle for either the self-hosted or the third-party hosted plans. The hosted option, where you work with an already established platform, is the strategy we recommend to anyone interested in making the most out of the dropshipping business.
With these hosted platforms, you don't have to work on everything from scratch since you get to use the themes, designs, and templates of the hosting platforms. Customization is possible and easy, and you will also be able to access technical help from these service providers.
The plugins offer may not be adequate, but this is the smartest approach for anyone new to the dropshipping and overall running of ecommerce stores.
Now that you know what you need to do or look at when looking for the best dropshipping platforms and why the hosted platforms would be the best fit for you let's take a look at some of the best platforms for dropshipping.
Best Dropshipping Platforms for Beginners
1. WooCommerce
WooCommerce boasts a large market share of at least 28% thanks to the use of WooCommerce in big and small ecommerce stores, as well as dropshipping websites.
Unknown to many people, WooCommerce is actually a leading ecommerce platform that's built-in WordPress, and that WordPress runs as many as 31% of all the websites that run on the internet.
So, with WordPress as the go-to website creation platform and WooCommerce as the best, most popular site for creating ecommerce stores, it only makes sense to have this as the number 1 platform for dropshipping websites.
The other reason for the popularity of the WooCommerce has to do with the super-flexible CMS, as well as the free and easy-to-install plugins. As a WooCommerce user, you can install these plugins with a single click, which means that WooCommerce is the ideal platform for technical and non-techies setting up ecommerce stores.
In this regard, the creation of your ecommerce store on WordPress is quite easy. You also get to add the WooCommerce plugin to be able to create an ecommerce store for dropshipping, 
Note that unlike other platforms like Shopify, WooCommerce is much cheaper (it is FREE), and as mentioned above, it offers a high level of flexibility. These features make WooCommerce a winner in our books.
The other impressive features offered by WooCommerce include the simplified hosting process and access to a custom domain name. The hosting service comes with excellent features like the free SSL certificate, great hosting performance and reliable uptime, and also great customer support services.  
There is also access to multiple free and premium themes that will suit your store's needs, and most importantly, you have access to a dedicated WooCommerce plugin specifically for dropshipping. The plugin comes in handy once you grow your product catalog and in need of many more product functionalities.
On top of the features and functions above, WooCommerce comes with a number of app integrations with leading drop shipping, inventory management, and fulfillment companies.
It supports multi-channel retailing, and thanks to partnerships and integrations with leading brands like Amazon, Google, Facebook, Square, BigCommerce, and PayPal, among other brands, you will access more sales features easily. Finally, WooCommerce configuration is easy to work with, and you could add shipping and payment gateways easily. 
---
2. Shopify
Shopify is easily the best dropshipping platform for most people, and though you have to pay to use and enjoy the basic and premium features offered by Shopify, it boasts an incredible range of features just for you. The platform is easy to use, the plans are affordable, and you could set everything up in a day or two. 
 On top of all these features, Shopify is one of the most affordable online platforms for dropshipping that boasts hosting at least 500,000 ecommerce sites and drop shipping websites.
All the plans come with a 14-day trial period, the cheapest plan starts from $29/month, and they all feature functions and tools for website creation (the online store builder), plugins and integrations for payment processing, as well as tools for marketing and sales.
Shopify also boasts numerous solutions that are easy to use, and the whole ecommerce store setup process is quite simple. Shopify makes it easy for you to create a complete store with ease thanks to its pre-filled pages such as the About Us, Return Policy, Shipping Calculator, Shipping Information, etc.
While some of the addons and plugins for Shopify are not free, they are 100% worth your money. The support services are also great, and you can reach the Shopify teams via email, chat support, phone, or their official forum.
You may also like that Shopify allows you to setup manual, as well as automatic collections meaning that you can manage your sales easily when you are selling different products from your store. On top of these functions, Shopify comes with a number of essential tools for SEO, including meta descriptions and a few other crucial features. 
Beware, however, that the monthly fee is not inclusive of the online credit card processing fees, and the fees go down if you choose the more expensive monthly plans that offer more features.
---
3. BigCommerce
BigCommerce is a one-stop platform for all your ecommerce needs, and it is regarded as the best overall platform for ecommerce. BigCommerce boasts a robust search engine, which makes this the go-to platform for entrepreneurs starting out in ecommerce, as well as the big and established retail stores.
BigCommerce is the ideal dropshipping platform for different people thanks to their flexible and friendly pricing, which makes it easy for anyone to run their dropshipping business on the platform.
Starting from $30/month, the pricing of BigCommerce plans is quite reasonable and realistic. But the reason why we recommend BigCommerce is more than its favorable pricing.
This platform allows newbies to set up their ecommerce sites in hours or days thanks to the large assortment of tools and features for the creation of the best ecommerce store. 
Users have access to at least 100 professionally designed ecommerce store-ready templates. These templates offer more than you'd get from other platforms like Shopify, meaning that you will enjoy an enriching platform that promises high conversion rates for your ecommerce store.
A look at the templates and their correlation with high conversion rates reveals an interesting and a winning feature in the templates – all the templates come in 3 or 4 unique styles, and you won't have to worry about another site looking exactly like yours.
In addition to the easy to use templates, ecommerce store creation is further simplified by the online store builder.
While the builder lacks the drag-and-drop function common with most other top-rated platforms, BigCommerce fixes this issue with its function, which allows its users access to the widest range of customization features, as well as an easy-to-use custom coding.
The other cool feature of BigCommerce is its product add functionality, which allows for easy addition of products. You also get to choose the sourcing apps that work best for you. 
---
4. Magento
Magento is another popular platform for dropshipping. It's quite powerful, but the reason why it's not on top of our list is that Magento is a bit complex, and it's not ideal for beginners or dropshippers with little or no coding knowledge.
As a result of its design, Magento is developer-friendly, and you must have the basic programming knowledge and skills to use it. On the upside, Magento is 100 free, and it offers its users quick access to professional support, which means that newbies with basic programming knowledge will have great help as they get started.
Help is also offered on several off-site channels, including blogs, forums, and YouTube channels.
---
5. OpenCart
If you are looking for a dropshipping platform that is easy to set up, a platform that is easy to work with, and one that doesn't need you to be tech-savvy, then OpenCart could be an ideal fit for you.
OpenCart offers free, as well as paid themes and plugins, which are ideal for dropshipping. In addition to the user-friendliness, this platform offers great integrations for payments, analytics, and also the administration of order volumes.
All these functions are accessible from the administrator dashboard, and the point-and-click interface means that the platform works well for the non-technical users as well. OpenCart is also 100% free, and you only need to pay for the hosting service that you use.
And if you feel stuck, then the support offered will be adequate to keep you going. Unfortunately, scalability is not a feature offered by this platform, and the platform is only ideal for small and medium-sized businesses. 
---
6. Wix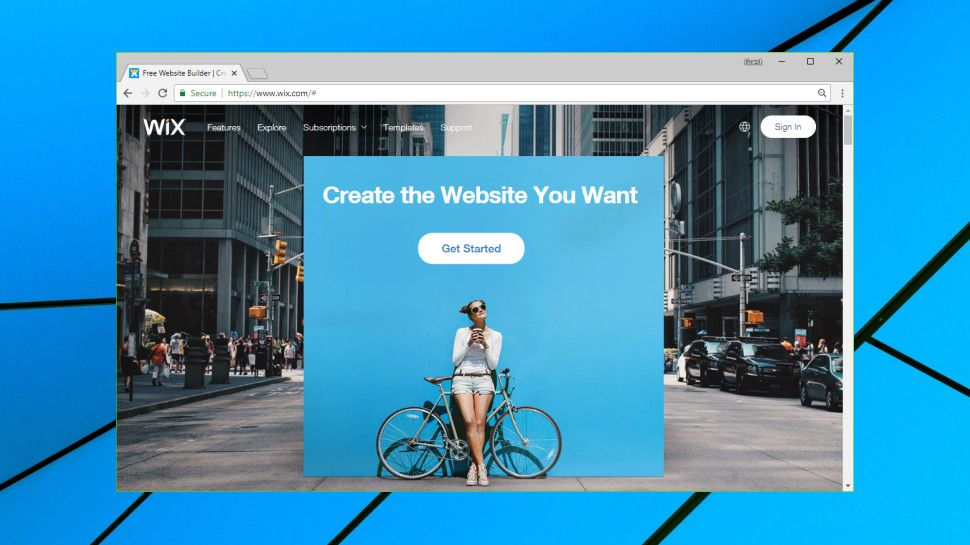 Wix is the other great platform for dropshipping, and one of the best features that make it your go-to dropshipping platform is that it offers a great drag-and-drop function for website building, specifically for the smaller websites.
Wix comes with hundreds of free templates, and it also offers web hosting functions, including free and paid domain names. Some of the reasons why Wix is a great addition for dropshipping include the fact that the there is no inventory needed for you to get started, it is easy to manage and monitor the inventory sold on the platform, and you won't have to deal with logistics or high dropship website creation costs. 
One of the unique features offered by Wix is its dropship automation software, Modalyst, which offers excellent features for tracking, customer management, as well as huge access to a great marketplace. 
---
7. Volusion
Volusion is one of the other top-rated platforms/ functions for dropshipping, and it makes it easy for you to access thousands of the best dropshipping products. It also allows you to add products to your ecommerce store easily. It also has a simple setup system, and you may like that Volusion comes with the best 14-day free trial period. 
The winning function of Volusion, however, has to be the high success rate of Volusion, which is more than two times the success rate reported when using Shopify. 
Some of the features of Volusion include the one-click product listing, which makes it easy for you to choose from a wide range of ready-to-dropship products. This listing feature also makes it easy for you to create and easily customize dropshipping products.
Volusion also promises the fastest delivery times, and it has everything you need in one place. 
Volusion also takes the top spot for the most profitable dropshipping platform thanks to the high-quality built-to-be-seen templates which have been handcrafted by the company's team of professional designers, marketers, and developers. Their templates feature powerful marketing features, as well as SEO and lead conversion tools. 
---
8. 3dcart
3dcart is the other online store builder that you may want to try. It also doubles as a shopping cart software, and it serves as one of the best all-in-one solutions which offer all you need to build a complete ecommerce/ dropshipping website.
With 3dcart, you won't have to look for alternative tools and services for the creation of your dropshipping website. 
3dcart comes packed with several essential features, it is easy and highly scalable, and it will handle traffic growth and sales seamlessly. It also boasts excellent design functions that allow you to set up an attractive and converting online storefront that boasts a wide array of mobile-ready, free, and professionally-designed themes.
The other reason why 3dcart could be a good dropshipping platform for you is that it integrates easily with leading marketplaces like eBay, Amazon, and also Google Shopping, among others.
Lastly, this platform makes it easy for you to expand your operations thanks to its integration functions, which work with multiple shipping carriers, integrated payments, as well as hundreds of leading apps.
There is a free trial period for you to test the waters, and if you like the setup and functions of 3dcart, you can pay for a plan that meets your needs well.
This dedicated ecommerce platform doesn't require any addons, you will have access to 24/7 technical support, from the 3dcart team, and you could pay for the premium themes for a unique dropshipping website design. 
Note, however, that unlike Volusion and most other platforms, 3dcart lacks advanced search engines that will look at your dropshipping store via sitemap indexing. 
---
9. Sellerapp
Sellerapp represents a leading ecommerce solution that has been designed specifically for Amazon sellers/ users. Sellerapp is not only an excellent ecommerce solution but also doubles as an excellent research platform since it offers insightful analytics into customer behavior and their interactions with your online business. 
Sellerapp collects a lot of data, and the data gathered could be used for sales optimization, as well as the generation of sales because the data collected allows for smarter selling.
Sellerapp boasts a number of important features, including Seller Watch, Product Ideas, Product Research, Listing Quality, Product Alerts, Keyword Research, Product Keyword, PPC Analyzer, and Product Source functions, among others. Thanks to all these features/ functions, you won't have to deal with the complex spreadsheets.
---
10. Drupal Commerce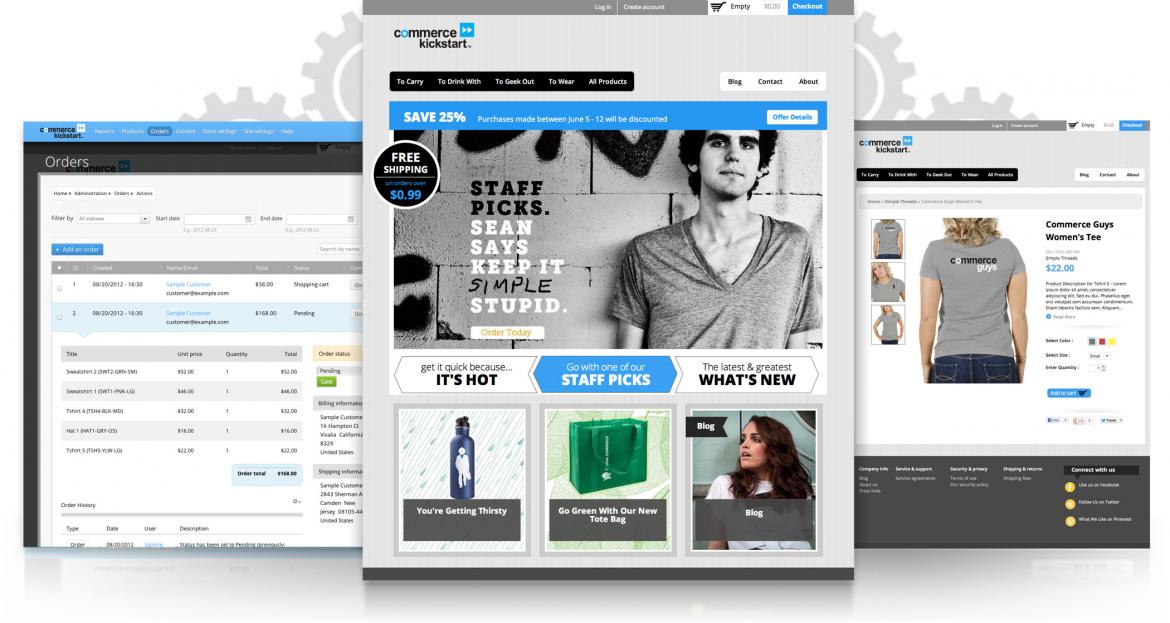 Drupal Commerce is an advanced framework for the development of ecommerce websites, as well as applications that make use of the open-source Drupal platform. This platform requires a bit of technical know-how, but once you get started, you will be on your way to well-optimized and a high-converting dropshipping ecommerce site.
Note, however, that even though Drupal is one of the best CRMs on the market, it is pricey, and you will not find as much support in terms of API and plugins. 
---
11. Square Online Store
If you are looking at the best ecommerce platform that offers all-inclusive ecommerce solutions, Square Online Store might be an excellent platform for you. This platform is affordable, and it comes with a free plan which allows you to create your free ecommerce store.
Square Online Store comes with great ecommerce functionalities like the shopping cart functionality, payment integrations, SEO tools, and tools for inventory management, among other functions. It's easy to use, and though it's imperfect, it is an excellent platform for you to get started on.
---
12. Jazva
If you are new to dropshipping, it's likely that you are looking for an ecommerce platform that would allow easy setup and even easier scaling. Jazva could be just the platform you are looking for because it offers the best ecommerce setup and scalability features.
This simplified ecommerce solution comes as an automation software ideally created to support multi-channel operations, all designed to streamline the management of SKUs on one platform. Some of the impressive features offered include the feature that tracks inventory in real-time thanks to the intelligent forecasting engine.
---
14. CoreCommerce
CoreCommerce offers free high-quality themes for your dropshipping website, it's easy to use, and it comes with a good number of essential integrations and third-party apps.
It's not the cheapest with plans priced from $39.99/month, but it's quite good.
---
15. PrestaShop
PrestaShop also offers the best features needed for the creation of a successful dropshipping website. It features a host of features that will encourage the creation of a converting dropshipping site, and the best part is that it is a free platform. You have to pay for the addons though.
---
Conclusion
In your search for the best dropshipping platform for beginners, you need to make sure that the platform you settle on is the one that promises and offers great value for your money.
In this case, you should be able to set up a successful ecommerce store, run comprehensive product research for the best products to sell, add products, and start selling from the platform. 
It should also be easy to use, affordable, and it must come with essential integrations designed to make sure that your ecommerce store for dropshipping is 100% setup and capable of handling orders from the first day it goes live.
The 3 platforms reviewed above are three of the best platforms for dropshipping, and you may want to try one or the other.
Indika is the founder of ecom hustler.com.And director of Bluechip mind. He runs his own digital marketing agency.
"Helping Someone Online Saves Lots of Airfare"