Best Amazon Product Research Tools
If you are planning to start selling on Amazon, one of the most important things you will have to do is to work hard. While Amazon opportunities present the biggest earning opportunities, there is a lot that goes into making the business venture work.
Yes, there are people earning 6 and 7 figures from Amazon, but if you ask them, you will find that these guys have put in so much work and time. No one's made it big on Amazon by just sitting and waiting. These passive income earning options require a substantial amount of dedication.
Besides creating an online store, the most important thing you must do is to research. You cannot sell just anything on your Amazon store. And for most people, this is the most stressful bit when it comes to running an Amazon business.
Today, however, we'll introduce you to some of the best strategies you could implement and tools to use to make the search for the best-selling products easier and faster. But first, a little background.
Why are Amazon product research tools necessary?
Well, for you to make big money working as an Amazon seller, you have to carry out a substantial amount of market evaluation. From niche selection, understanding brand restrictions, working around your competition, determining the seller fees, and creating an online store with a huge potential for selling, running a dropshipping, or an e-commerce fulfillment business is not an easy thing.
And with the constant market changes around Amazon, you will find that you have to refine your trade strategies, at all times. Some of the strategies that worked well a few years go might not be as effective anymore, which means that you need to work on refining your trade.
Amazon Product Research
Just as the name suggests, Amazon Product Research refers to the process of analyzing all the current market trends, to be able to determine and choose the best or winning products – the products that would generate high sales.
Essentially, the idea behind Amazon product research involves searching for the products you can find cheaply, but the ones that can be sold at a competitive price, to yield good profit margins as a result.
This research is important since it allows you to find the best products to sell. The product research allows you to find the best high-demand, low competition, and also the private-label products.
You also need to run comprehensive research into the products you are going to buy because gone are the days that you'd get Amazon products, slap on a nice logo, incorporate custom packaging, and then make good money from the venture.
Today, Amazon has many more sellers, they made their selling policies stricter, and the old tricks no longer work. So, you need to find new strategies that would work in the current market scenario.
For example, you need to start from listing your best-selling products; these are the products that you'd like to sell. Next, you will have to conduct a deep analysis of the market and determine whether similar products are profitable or not.
The data obtained will provide important data about the sales, keyword search volume, product reviews, and the performance of competing/ similar products. Here are some of the things you need to consider before you settle on the best products to sell on Amazon.
Small/ lightweight items
High-demand items
Low-competition products
Products that promise decent profit margins
Products with room for improvement
Low-seasonality products – these are the products that can sell on Amazon all-year-round because they are not limited to one season
Products without any legal issues – generally, you need to avoid the products that are trademarked or the ones with known legal issues
Finally, opt for the products that are priced at over 18 dollars.
Now that you know what you need to be looking out for in Amazon products, which are the best Amazon Product Research Tools?
Top Amazon Product Research Tools
1. Jungle Scout
Like the rest of our readers, you are on this page because you are looking for answers to the elusive question; 'Which is the best-selling or the hottest product on Amazon now?'
The truth is that the search for the best amazon products to sell in your Amazon FBA business can be very confusing and time-consuming, and with billions of products for you to sift through, your only chance at success and profits lies with the best research tools for Amazon products.
Jungle Scout is on top of our list as the best product research tool for use in Amazon, and it offers everything you need, all thanks to its web application and the chrome extension, both designed to simplify your search. Both interfaces are easy to use, and they promise a seamless operation. 
Jungle Scout comes with a host of amazing product research tools, and it's regarded by experts as the most helpful, intensive, extensive, and the best resource for product research.
To handle all the product research heavy lifting, Jungle Scout features an expansive database of excellent products along with tools for sorting and filtering results.
Some of the things that Jungle Scout can do include extensive data analysis involving the calculation of details like products' Opportunity Scores for the relevant niches. 
The other tools include:
The Amazon product tool for product price comparison, Sales Data for product lists and descriptions (including prices, history, best-selling ranks, top-ranking products determined using PPC, and sold quantities, etc.), and the Listing Quality Score (LSQ) which simplifies the tracking of the products sold on Amazon based on a 1-5 pointer scale for product comparison. 
The other product search feature offered by Jungle Scout is the Listing Quality Score or the LQS.
This scoring system makes it possible for you to track the ratings for Amazon products using the pointer system that runs on a 1-5 scale. Using the LQS scores, you will be able to make product comparisons and improve your listed products' features.
The other features that enhance your search for the best products include the Opportunity Finder for profitable niches, a comprehensive supplier database for details of the best brands and suppliers, the Keyword Scout for product keywords, a Launch tool, as well as tools for sales analysis, inventory management, as well as alerts and notifications. 
You may also like the affordability of this product research tool. Therefore, you get to analyze niche sales and product trends easily.
---
2. AMZScout
AMZScout gives you instant access to the most comprehensive products and sales data on Amazon.
This research tool gives you great options for identifying and analyzing the best niches to target on Amazon; you will have automatic access to statistics on different products, as well as comprehensive analytics and insights into the action of your biggest competitors.
The tracking of the performance of competitors is made possible by the web-based tracking mechanism.
But you don't get to track, and the product lists, sales, inventory, and prices all thanks to the advanced features of AMZScout, which makes it possible for easy and effortless tracking of sales history, including trends, revenue collected, and the keywords used by other sellers. 
Like Jungle Scout, AMZScout also comes with a Chrome extension in addition to the web-based application, and both systems make it possible and easy for you to access product sales data from one place.         
On top of the tracking and analytics features, AMZScout also boasts an expansive product database spanning over 20 million products.
The other features you may enjoy include the Listing Quality Score (LQS), which offers comprehensive insights into products, from the image and the seller information to sales estimates and elements of SEO.
You may also like the inventory tracking functions like the Date First Available, Favorites, Net Margin, as well as the RPR (revenue per the total number of reviews), as well as the best-selling tags, Next 5 button, keywords to check, and the Alibaba search button. 
 This tool comes with a 7-day trial period, and also a moneyback guarantee. 
---
3. ASINspector
Thanks to its open-in-store function that facilitates the search of product listings beyond Amazon on Alibaba, Walmart, AliExpress, and eBay. ASINspector could be the best Amazon product research tool for you. 
Like the other research tools above, ASINspector comes as a web application and as a Chrome extension.
Both interfaces give you access to important features and functions such as the bestseller rank, product category, brand, estimated monthly revenue/ sales, price/ ranking history, review ratings, sales trends data, products in the top-seller category, and unique product ideas. 
The Scanner is ASINspector's mobile function for scanning products, and it's designed to enhance product searches. To use the scanner, scan the products' barcode, then upload that data to the ASINspector, and Voila, you will have all the information about that product. 
---
4. Viral Launch
Viral Launch is designed to streamline the product search process thanks to its intensive filters, which will personalize your product lists and leave you with the products that have the highest earning potential.
The filter also increases your selection of the products that would bring in the highest profit margins by analyzing the products' information, picking out specific keywords, product categories, and brands. 
In addition to product research, you could also use Viral Launch to obtain products' sourcing information, accurate product estimates, and you could reevaluate your searches with the tracker tool, which gives detailed insights into the best product lists, keyword ranking, and also tips for a product launch.
Essentially, Viral Launch offers all the essential tips you need for more clicks, impressions, and generally how to boost your sales. The other cool feature offered by Viral Launch is access to the most experienced coaches on Amazon. 
Viral Launch also makes it possible for you to consult experienced Amazon coaches for you to learn more about running the most successful business on Amazon. You will also gain insights on professional product photography and also how to maximize your keywords' ranking potential while boosting your conversions using Amazon listing optimization tips and the best sales copy. 
Viral Launch also makes it possible for you to consult experienced Amazon coaches for you to learn more about running the most successful business on Amazon
---
5. Unicorn Smasher
For an Amazon product research tool with extensively researched data on the best Amazon products, comprehensive data and market analytics, sales estimates, and seamless integrations with the AMZ Tracker (this gives you insights into the activities and the performance of your competitors), you may like the Unicorn Smasher. 
This research tool offers additional features like canonical URLs, saving options for favorite products, a discreet product sharing/ exporting tool, Amazon FBA fulfillment tips, in-browser sales, and PPC metrics analysis, as well as insights into revenue estimates. And the best bit is that you will access all this information from the Unicorn Smasher database. 
Note that the Unicorn Smasher is a product research software. 
---
6. SellerAPP
The SellerApp is our most favorite Amazon product research tool because it does more than product research – this tool is essentially an all-in-one tool for all sellers. SellerApp allows you to sift through hundreds, if not thousands of top products from hundreds of top Amazon niches and categories.
You can compare the products you find based on different metrics such as the sales and revenue estimates, the total number of sellers for that product, the intensity of the competition, sales ranks, rating and review trends, etc.
You also get to track and then compare all the important metrics from the dashboard (no spreadsheets), while discovering the products that will cater to your specific needs.
You may also like the multiple product data points you could research from, for example, the historical rating trends, the sales potential, revenue, or the product category. 
Top research features available include the Product Competition Intensity Analysis tool, Complete Product Analysis, Product Sales and Revenue, as well as Competitor Data Tracking, functions. 
---
7. Scope
The scope is an Amazon product research tool that makes it possible for you to discover the most profitable products and keywords on Amazon, while also simplifying your search for the right products that you could sell on Amazon to enjoy good profit margins. 
A product of Seller Labs, Scope comes with a good number of features that stand out, but the coolest of them all is the function that displays all the top-ranking keywords for specific/ selected products.
With keywords as integral SEO and marketing elements, Scope ensures the simplification of your marketing efforts. Scope also offers another unique feature, the reverse ASIN lookup, which is also essential for product marketing and sales – you could use it to figure out your estimated sales/keyword or SPK, the average CPC build, etc. 
Essentially, Scope gives sellers all the relevant information about a product(s), from the fees, sales estimates, prices, reviews, number of sellers, and trends, among other important features. You may also like the profit calculator in Scope as it offers the most accurate estimate of your earning potential. 
Scope comes as a Chrome extension and as a web application.
---
8. AMZ Base
If you need a simple tool to help you hunt for the best products and to establish the ideal products for you to sell on your Amazon store, AMZ Base could be the tool you have been looking for.
It's completely free, and you could use it to calculate FBA prices or to discover product descriptions and ASIN variety in products and services. 
---
9. AMZ Tracker
If you have been struggling to figure out and to work around Amazon's search engine, AMZ Tracker is the tool that you need to maneuver the search engine with ease.
While Amazon is one of the biggest search engines on the internet, it doesn't work in the same way as Google, and this means that there are some complexities around things like product ranking and keywords.
AMZ Tracker will end your struggles because this tool has been designed specifically for ranking on Amazon. AMZ Tracker will help you find and use the right keywords for a boost of your products' ranking on the site.
The coolest thing is that the ranking functions of this tracker are easy to use, the tracker makes it easy for you to read/ decipher reports, and using the insights gathered, you get to market your products in the best way possible.
AMZ Tracker is a comprehensive services suite whose functions fledge beyond the simple research functions seen in other tools. For example, the AMZ Tracker offers insights into negative review alerts, it guides in long-tail keyword research, and it will also help you handle the "super URL" constructors.
You may also like the AMZ Tracker because it's set up to spy on your competition, providing you with viral marketing/product intelligence. 
---
10. Keepa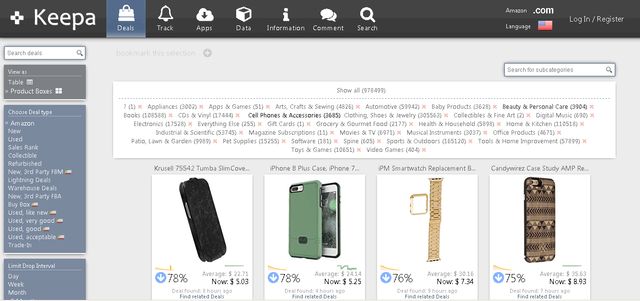 Keepa is a simple but effective product research web app that works as both a Product tracker and a product viewer. Its downloadable extension is easy to use.
In addition to product research, Keepa is also effective in product tracking, as well as in the identification of the best fitting criteria and additional product information. Using all the information collected by the app, you will easily identify your best products to sell from your Amazon store.  
Since Keepa is a web app, the program could be easily updated to offer access to specific users.
---
11. RepricerExpress
While RepricerExpress isn't focused on the fanciest features like the ones offered by the other tools above, it's been designed with only one goal in mind – to help out all Amazon sellers to get their selected products into Amazon's Buy Box, or at the very least, in Amazon's More Choices box.
With these boxes often considered by shoppers, having your products listed in these boxes will increase the chances of sales, and if you use the tool well, you could easily kick out your competitors from the Buy Box.
Therefore, even if you will not use this product to search for the best products to sell on your Amazon store, you get to use it to market and increase your sales.
The use of RepricerExpress has been shown to increase sales significantly, and investing in this tool could be the smartest move you make in your Amazon FBA business. 
Besides the great potential for sales, RepricerExpress is quite flexible as it allows the use of different strategies for marketing while allowing you to easily pursue the tactics that will serve you in the best way possible.
You could use this tool to match the prices set by your competitors, raise your product prices to create the impression of higher product quality, and the insights from RepricerExpress could essentially make it possible for you to low-ball your competitors for you to offer rock bottom prices. 
---
12. CamelCamelCamel
Camelcamelcamel, not a typo, is an important product research tool that allows you to choose the best products by offering the best and the most comprehensive product price tracking information.
You could use this tool to tag and add specific products to your products' watch list, and the tool will then notify you when the prices drop.
This tool also offers historical price charts for any of the products you choose, all thanks to its huge database with more than 18 million listed products. Camelcamelcamel integrates with browsers (Chrome and Firefox) easily thanks to the extension and the plugin. It is free.  
---
13. Helium 10

Helium 10 is regarded as one of the most powerful tools for product research, and we recommend it for use by all Amazon sellers. Helium 10 comes with features for identifying the high-ranking keywords, current product trends, as well as the functions for spying on your competitors and for optimization of your product listings.
So, in addition to being an excellent product research tool, Helium 10 is also one of the best tools for Amazon optimization. If you are working on growing your Amazon FBA business, Helium 10 is one of the resources you need to invest in.
---
14. Sonar
Sonar hunts for the best products on Amazon using ASIN as well as keyword searches. On its website, users get to analyze target and related keywords and then add the search results into their selected product searches, hence a faster and more effortless research and product listing process.
---
15. Google Keyword planner
Keyword research is a fundamental part of product research, and this Google Keyword Planner is designed to ensure that the search for the best products is as simple and effortless as possible. 
Using the planner, you will discover great inspirations for keywords, understand the Amazon search engine, and you could also use it to track trends and the actions of your competitors.  
---
Conclusion
There are numerous tools for you to try, and all these products promise to help you out in different aspects of Amazon product research.
While they do the same thing, these tools offer unique elements, which is why you should only settle on the tools that provide all the full-value features you need for the success of your Amazon business. Also, these tools are ideal for different business sizes, and there is basically something for everyone.
Indika is the founder of ecom hustler.com.And director of Bluechip mind. He runs his own digital marketing agency.
"Helping Someone Online Saves Lots of Airfare"